The Quantum Design Jam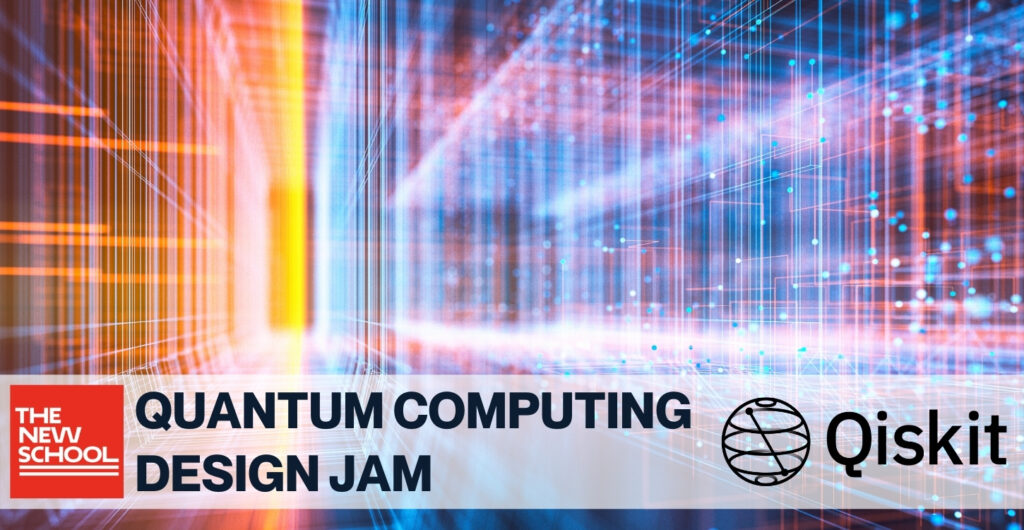 To receive updates for the Fall 2023 Quantum Design Jam please fill in the form
The first 2021 Quantum Design Jam took place October 1st – 9th at The New School and online. The Design Jam was hosted by The New School Innovation Center in partnership with the IBM Skills Academy and IBM Quantum team. The Quantum Design Jam was the first of its kind to bring together students and faculty from The Parsons School of Design, the College of Performance Arts and across The New School with IBM Quantum experts. The Design Jam focused on two main themes: Art & Design, and Music and explore the intersection between the creative arts and quantum physics. Students from the Fall 2021 "Collab: Quantum Computing" course and others will be invited to attend a series of events, form teams and explore possible applications of quantum computing and develop prototypes. Watch the student video reflecting on their experience.
About Quantum Computing 
Classical computing which is based on Moore's Law is hitting a plateau and we will need a new form of computing to continue to advance in our use of technology. In quantum computing, a qubit or quantum bit is the basic unit of quantum information. Qubits can exist in a state known as superposition, where their value can be 0 and 1 simultaneously. Any attempt to measure a qubit causes this state to collapse to a 0 or 1. Based on this phenomena quantum computers offer the possibility of a technology exponentially more powerful than current classical computing systems. The introduction of quantum computing will allow us to simulate extraordinarily complex systems and transform business, industry, and the world by solving problems that seem impossible today.
Quantum computers are expected to advance solutions to challenges in diverse fields such as energy, finance, pharmaceuticals and life sciences, new materials, manage traffic in urban areas, combat climate change, accelerate AI and cybersecurity. With these developments, we will also face critical questions about access, ethics, diversity and inclusion.  
Join the Quantum Design Jam at The New School 
The Design Jam will bring students, faculty, experts and practitioners to explore Art, Design, Music and Quantum Computing. During the Quantum Design Jam students will be introduced to Qiskit and how to visually build quantum circuits using the IBM Quantum Composer. Students will use Qiskit, a language based on Python, and run quantum circuits on the actual IBM quantum hardware accessible through the cloud. Throughout the Quantum Design Jam students will attend workshops facilitated by IBM quantum Experts and meet with IBM mentors. 
Students will use these tools to explore possible applications of quantum computing across disciplines and think about an emerging set of career opportunities for designers and policy makers. No previous tech skills are required. The Design Jam goals are to:
Explore the affordances of quantum computing as an artistic medium
Build quantum prototypes and experiments with Qiskit in a cloud programming environment.
Make quantum computing more accessible as we demonstrate this vision with creative prototypes
Educate the next generation of quantum computing practitioners, designers, and creative entrepreneurs
To receive updates for the Fall 2022 Quantum Design Jam please fill in the form